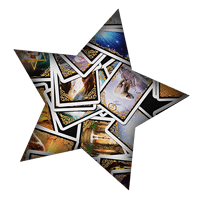 Madame Anne Adelaide Lenormand was one of the most valued professional cartomancer, clairvoyant and fortune-teller of her time. Her talent was so great that she even developed a new, more powerful deck of cards for divination, that were ultimately named after her. She revolutionized the old methods and quickly became popular, not just in France, but also all the way to the Russian Empire – she gave precious advice of the powerful and famous Tsar Alexander I, the great emperor.
Her salon reached tremendous recognition and most of the celebrities back then used to visit frequently and ask for her guidance. This was simply because her methods worked. Anyone with a problem was able to solve it without wasting time and much hassle, just by going in for consultation. Now, with online readings and internet everywhere you don't even need to leave the house to get Lenormand reading for free. It's all in your hands, at the tip of your fingers.
You can use out free Lenormand readings any time to get the incredibly detailed and precise information they give. The cards represent images that are all easy to understand, so you can further complement your reading with meaningful and accurate interpretations. Select one and enjoy the wisdom of the great Madame Lenormand!
Choose a Lenormand spread